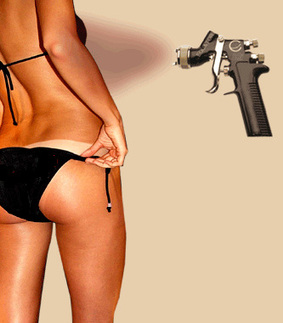 CUSTOM AIRBRUSH TESTIMONIALS

"Although the mere mention of an "Airbrush Tan" may freak many out, I have to say I have had nothing but great experience at Sun City with Lindsay. She makes the whole session as quick and professional as possible. I always leave with the perfect bronze glow. NEVER EVER streaky or blotchy. Often times I get it done right before a big event or a night out and it's almost like that "extra accessory" that gives me the confidence boost I need to feel great about myself all night long"-Briana G

"First I want to say THANK YOU to Sun City for providing me with many flawless spray tans. The product is amazing! It's customized to your personal complexion, fragrence free, completely streak free and lasts for over a week! EASILY! I personally love how fast it dries and the beautiful tan that looks so NATURAL! Not only was I completely satisfied with the tan itself but the salon is very clean and someone is always there to greet you with a smile at the door. Thanks to Lindsay at her perfect spray tan, any event I have to go to I know I will have my skin the perfect color!" -Lacy D

"I wanted to take this opportunity to express how much I LOVE getting spray tans at Sun City! They are always so easy to get ahold of, and book an appointment to fit my schedule-even if its last minute! I love the look of a tan but don't have a month before to lay in the tanning beds! They make it so convenient to come in and get a quick tan and then be on my way looking like I just got back from Mexico! I have gotten them for weddings or events, or just when I am feeling a bit pale. The girls always make me feel comfortable too! HIGHLY recommended! -Ashlee W

"Went in for my custom airbrush and it was very comfortable and relaxed. No streaks and no sticky feeling! The color was very natural and lasted me about 6 days. I would recommend this to anyone looking for fast color or has a special event to go to" -Kim L

"The airbrush tan was amazing! I did not have any orange coloring to my skin and no streaking either. Lindsay did a great job and explained everything all of the way through the spray so you knew exactly what to do to have the spray come out perfect! It lasted for me a full week. I am actually going back again to get sprayed for my wedding in a few weeks! :)"-Kim B

"After tanning weekly for over two years, I hit my plateau and was unable to get that deep, dark tan I wanted. I'll admit I was nervous to get a spray tan because of rumors of streaking, blotching, and a color that better resembled an Oompa Loompa. However, when I visited Sun City's spray tan expert (Lindsay) she made me feel at ease! Not only was the experience relaxing and enjoyable, but my tan has made people question if I'd been vacationing in the tropics. It's been almost a week after the spray and I have yet to find a streak or blotch. I'll definetely be coming back for another visit."-Meghan H

"Very professional and came out great. Overall a wonderful experience" - Meghan W

"I had a great experience, very knowledgeable staff. I thought that airbrush tan looked very natural and results were pretty much instant. The tan lasted a lot longer than I had expected. I would definitely do the airbrush tan again"- Lauren F

"I am very fair skinned so being tan has always been impossible. I was nervous that a spray tan would leave me orange, but it looks completely natural. It took less than 5 minutes and left me with a nice golden glow" - Michelle K

"I really enjoyed the airbrush tan, it gives a nice natural look and not that orange look. Most people say oh spray tan turns you orange this spray tan did the complete opposite I was so happy with the results. I will be coming in again soon for the airbrush tan"- Kate Y

"It was awesome! Cant wait to go back. I could see the color immediately. The staff at Sun City always so great"- Kelly S

"I absolutely loved my custom airbrush tan by Lindsay at Sun City! It was a quick, comfortable process but lasted longer than I expected! I kept getting compliments on my tan and I loved how natural it looked. I would definetely recommend this and will continue to go back for more"- Tianna T


CUSTOM AIRBRUSH FAQ
SINCE SOMEONE IS PHYSICALLY SPRAYING ME, DO I NEED TO TIP? The Custom Airbrush is a service like any you would receive in a hair or nail salon. We do suggest tipping your technician.

IS THERE ANYTHING I NEED TO DO BEFORE GETTING A SPRAY? Yes, preparing your skin is extremely important. Please make sure to shower and exfoliate your skin. Do not put on any type of moisturizers, lotions, makeup or deodorant on your skin. Also, please refrain from using any perfume or cologne. Doing so may result in streaks on your skin, and create a barrier between your skin and the solution. Coming as fresh out of a shower as possible is best.

I HAVE A BIG EVENT COMING UP, WHEN SHOULD I DO THE SPRAY? A Custom Airbrush for a big event such as a wedding, prom, or even a vacation should be done 2 days before. Sprays look their very best on their 2nd and 3rd day. If you are getting married you want to make sure all excess bronzers are completely off your skin before putting on your dress, we advise 2 showers before your big day!

WHAT SHOULD I WEAR FOR A CUSTOM AIRBRUSH? Its completely up to you what you'd like to wear. We suggest whatever you are comfortable in. Some people decide to go topless, others wear a strapless bra and panties. Clients sometimes choose to go nude which is fine. We do ask if you are a male client to keep something on, whether it be shorts or boxers. Whatever you decide to leave on, the solution doesn't stain.

HOW WILL YOU KNOW WHICH COLOR TO SPRAY? Our trained technicians are very good at judging how much solution to apply based on skin tone. Whether you are very fair or have a dark complexion we will apply the correct amount of solution to give you the tan you are looking for. We will have you look at the color you receive before finishing and may add more color based on that.

HOW LONG SHOULD I WAIT AFTER AN AIRBRUSH SESSION BEFORE SHOWERING? You want to give the bronzers time to develop. We suggest 6-8 hours at the very minimum. Most clients choose to shower the next morning. During this time please do not go to the gym, sweat, or go swimming.

I HAVEN'T SHOWERED YET, BUT IT LOOKS WAY TOO DARK. Once you take a shower a lot of excess bronzers are going to come off your skin leaving a beautiful bronze tan.

MY LEGS NEVER SEEM TO TAN, WILL THIS HELP? Yes, in fact this is a very common question. For this reason our technicians always do 2-3 coats on the legs to make sure they get enough color.

HAS ANYONE HAD AN ALLERGIC REACTION TO THE AIRBRUSH SOLUTION? The components we use in our solution have been successfully used in cosmetics and food products for decades, and are proven safe for use on the skin.

HOW QUICKLY CAN I GET DRESSED AFTER A AIRBRUSH TANNING SPRAY? As soon as the spray application is done you can get dressed right away. Please bring loose fitting clothes for after. You don't want anything rubbing too tightly against the spray. Ladies-we recommend wearing no bra when leaving the salon. Just so strap marks do not occur. A tee shirt and loose pants are your best options.

I'M GETTING MARRIED, DO YOU SUGGEST A TRIAL SPRAY? We definitely recommend getting a trial spray before your big day, just to make sure its what you are looking for. Its suggested trying it about a month in advance. This will give you time to get any solution that may be left on your skin plenty of time to come off, leaving you a perfect base for your wedding day spray.

HOW LONG DOES THE CUSTOM AIRBRUSH LAST? Generally, most sprays last 5-7 days., Moisturizing daily helps prolong the life of the tan.

WHAT DO I NEED TO MAKE SURE I DO AFTER THE SPRAY? Wear loose clothes! Make sure you wait the 8-10 hours to shower.Do not scrub your skin while showering for a few days. No loofahs please. Moisturize every day to extend the life of your tan. Letting your skin get dry will make the tan fade faster. We recommend the Hempz Moisturizer (sold in salon) to use to keep your Custom Airbrush looking great!

I FOUND A STREAK ON MY SKIN, HOW DO I GET RID OF IT? Though this is very rare, it can happen. Baking Soda and Water mixed together create a paste. Rub this on the streak and this will help blend any imperfections. Lemon juice also works the same way. Normally any smudges seen before showering are just excess bronzers and will blend once you take your first shower.