Voted Best Tanning Salon in Worcester MA.
Specializing in Indoor and UV Free Tanning.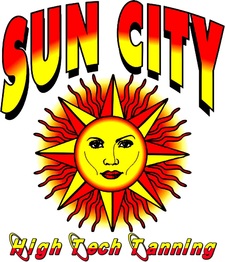 Welcome to Sun City Tanning. Let our tanning specialists design a personal program to help you achieve and retain a beautiful, year round, golden brown tan.

Your first tan is always FREE.
Silver Level-15 minute bed or 12 minute stand up. ($10 Value)
(Valid ID required-PLEASE NOTE AS OF MAY 5, 2016 THE LAWFUL AGE TO TAN IN MASSACHUSETTS IS 18 OR OLDER).

Our Mission is to help produce the deepest, darkest, tan possible for, your skin type. Sun City provides the finest, most advanced, High Tech Tanning equipment available. A combination of custom designed stand up
booths, and an array of high pressure, high performance beds,
(all with facial lamps) will produce the finest tan you've ever had. Sun City's upper level equipment is like nothing you've ever used,
and will tan you in half the time of most other machines. We sell results, not minutes.
Our entry level equipment is equal to many salons mid level, and
even some upper level offerings.
We also offer an alternative to UV Tanning with our Mystic Spray Tan and Custom Airbrush systems. For more information please refer to our Spray Tanning pages, or call our salon for more information.
Thank you for selecting SUN CITY as your tanning salon of choice.