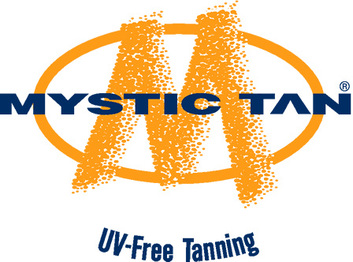 Level 1 & 2 Mystic Spray: $25
Level 3 Mystic Plus Spray: $30

The Mystic Tan Booth is designed to deliver a customized sunless tanning application to each customer based on their body size, skin type, and desired color. There are three tanning level options available to produce the optimal tanning results for each individual customer. Once the proper tanning level for a new customer has been determined, they are shown a short instructional video, which is designed to walk them through the entire process step-by-step. This insures that each customer receives the exact same instructions on how to get the best results.

Inside the Mystic Tan room the tanner simply disrobes and enters the booth. With the push of a button the session begins with a fine mist of Aloe Vera enriched Sunless-Tanning Solution being sprayed through our proprietary patented MagneTan nozzles. The MagneTan Technology insures uniform coverage over the entire body, which our proprietary sunless tanning solution instantly transforms into a quick natural-looking tan that continues to darken throughout the day.
A perfectly uniform, natural looking tan in less than 60 seconds!

***Before receiving a Mystic Tan be sure to shower, exfoliate your skin, and do not apply any type of lotions, moisturizers, or perfumes. These may cause streaking. Also, you cannot shower for a minimum of 4-6 hours.***


MYSTIC TAN FAQ
WHAT IS THE MYSTIC TAN BOOTH? The Mystic Tan booth is a private, self-contained unit that employs a revolutionary spray process to apply a uniform amount of tanning solution to the entire body in just seconds. When the tanning session is complete, the tanner simply steps out of the booth, towels off any excess mist, dresses and exits. The result is a smooth, natural-looking tan.

WILL MY SKIN LOOK ORANGE? Not at all. Before Mystic Tan, most self-tanners were creams and lotions applied by hand. That meant inconsistent coverage. Too much lotion applied in one place left the skin looking orange. Not enough lotion left unattractive streaks. Hand held spray-on applicators tend to run and also cause streaking.

WHAT SHOULD I WEAR IN THE MYSTIC TAN BOOTH? Most people wear nothing. Since the room is completely private, going for an all-over tan is completely up to you. However, if you do wear a bathing suit or underwear, please note that it may become stained. The instant bronzer we use is water-soluble and should wash out, but the DHA we apply may permanently stain what you wear during the tanning session.

WILL MY SKIN BE WET WHEN I STEP OUT OF THE MYSTIC TAN TANNING BOOTH? The mist applied in the Mystic Tan tanning booth is moist and very fine. Tiny droplets remaining on your arms or legs after the session are easily removed by toweling dry. Don't worry about wiping off the solution. Toweling won't streak your tan, and any solution that wipes onto the towel is excess and will not effect your tan. Just towel off the same way you do when you take a shower. Be sure to towel off completely before getting dressed.

HOW LONG SHOULD I WAIT AFTER A TANNING SESSION BEFORE SHOWERING? To give the DHA enough time to fully set, we recommend waiting a minimum of 4 hours after tanning. When you do shower, the temporary water-soluble bronzer will wash off, but the DHA that creates your longer-lasting tan will remain.

WHAT HAPPENS IF THE MYSTIC TAN MIST GETS IN MY EYES? Mystic Tan tanning solution has been thoroughly tested by a third-party lab and the results showed no eye or skin irritation.

WHAT HAPPENS IF I INHALE ANY OF THE MYSTIC TAN MIST? While no one should purposely inhale or ingest the Mystic Tan mist, it is known that DHA (the active tanning ingredient) is a non-hazardous compound and causes no adverse reaction in moderate quantities when applied topically or even ingested. DHA has been used as a diet supplement in sports nutrition and is non-carcinogenic. Testing has further shown that DHA is less toxic than aspirin, caffeine and even common table salt. Based on our research, the maximum amount of DHA that could accidentally be ingested or breathed during a one minute Mystic Tan sunless tanning session would be .05 milligrams (equivalent to less than one grain of common table salt). Ingesting this minimal amount of DHA should pose no health risk to the consumer.

HAS ANYONE HAD AN ALLERGIC REACTION TO MYSTIC TAN TANNING SOLUTION? The components we use in our solution have been successfully used in cosmetics and food products for decades, and are proven safe for use on the skin. If you've had previous allergic reactions to self-tanning lotions or cosmetics, you may want to do a "patch test" first to see if there are any reactions to the Mystic Tan solution

SHOULD I COVER MY HAIR WHILE TANNING IN THE MYSTIC TAN TANNING BOOTH? Many customers wear a disposable shower cap, provided by the salon, to keep solution from getting into their hair. The solution has no effect on hair follicles.

WHAT'S IN MYSTIC TAN TANNING SOLUTION? The Mystic Tan tanning solution has three components: 1. BRONZER: a water-soluble, brown-tinted dye that produces an instant tan. The bronzer washes off in the shower or bath, without affecting your overall tan. 2. DHA: this is what produces a long-term tan. The use of DHA has been FDA-approved for decades as an external tanning agent. When applied, DHA reacts with proteins in the skin's superficial layer to form a golden brown color. Your skin begins to darken two to three hours after application and reaches its peak color within 24 hours. The color will gradually fade through natural exfoliation, just like a tan from the sun. To maintain optimal color, you'll want to tan every four to five days. 3. ALOE VERA: helps carry the DHA deeper into the skin and promotes a softer, smoother finish. Mystic Tan tanning contains more than 65% stabilized Aloe Vera liquid, a natural moisturizer that helps skin draw moisture to the surface. Aloe Vera also softens the skin and helps smooth wrinkles.

ARE THERE WAYS TO ENHANCE THE MYSTIC TAN RESULTS? Keeping your skin hydrated prior to tanning helps your skin absorb Mystic Tan tanning solution. Frequently using moisturizer will help the tan last longer. Apply moisturizer after showering, but not during the hours between your Mystic Tan session and your shower.

WILL SWIMMING AFFECT MY TAN? Swimming in chlorinated water or salt water can bleach the Mystic Tan results, cause possible streaking and will diminish the length of your tan. However, normal activities such as bathing, showering or physical activities will not affect the quality of the tan.

HOW QUICKLY CAN I GET DRESSED AFTER A MYSTIC TAN TANNING SESSION? Once you have tried off completely you can get dressed right away. If you perspire some of the bronzer may come off on your clothes. However, the solution is water based and will wash out.

HOW MANY MYSTIC TAN TANNING SESSIONS WILL I NEED TO ACHIEVE THE COLOR I WANT? You'll be tan after one session, but it may take additional sessions to achieve your desired color. Once you reach your ideal color, you should be able to maintain it by tanning every four to five days.

IF I TAN IN THE MYSTIC TAN TANNING BOOTH, CAN I ALSO TAN IN TANNING BEDS AND IN THE SUN? Yes. There is nothing in the Mystic Tan tanning solution that would prevent you from tanning in tanning beds of the sun. In fact, a number of customers have found that tanning with UV rays and the Mystic Tan tanning solution actually gives them a better overall tan. If you plan to use a tanning bed and the Mystic Tan booth in the same day, we recommend that you use the tanning bed first. Remember however, that the Mystic Tan tan does not give you any protection from UV rays.

I HAVE FAIR SKIN AND HAVE NEVER BEEN ABLE TO TAN. WILL I LOOK TAN AFTER A MYSTIC TAN TANNING SESSION? The Mystic Tan tanning booth was designed specifically for individuals who can't or prefer not to tan conventionally.

CAN I USE THE MYSTIC TAN BOOTH IF I AM PREGNANT? We recommend consulting with your doctor before proceeding with a Mystic Tan tanning session.