WALK INS WELCOME!
We offer UNLIMITED MONTH, 2 WEEK packages as well as VISIT Packages.
Call 508-852-0900 for more information.



BLACK FRIDAY 11/24 AND SMALL BUSINESS SATURDAY 11/25 PICK ANY DEAL OFF THE CALENDAR BELOW! BUY AS MANY DEALS AS YOU'D LIKE. GIFT CARDS, GIFT BAGS AND BASKETS WILL ALSO BE AVAILABLE!
STARTING DECEMBER 1ST THERE WILL BE A DIFFERENT DEAL EACH DAY LEADING UP TO CHRISTMAS DAY.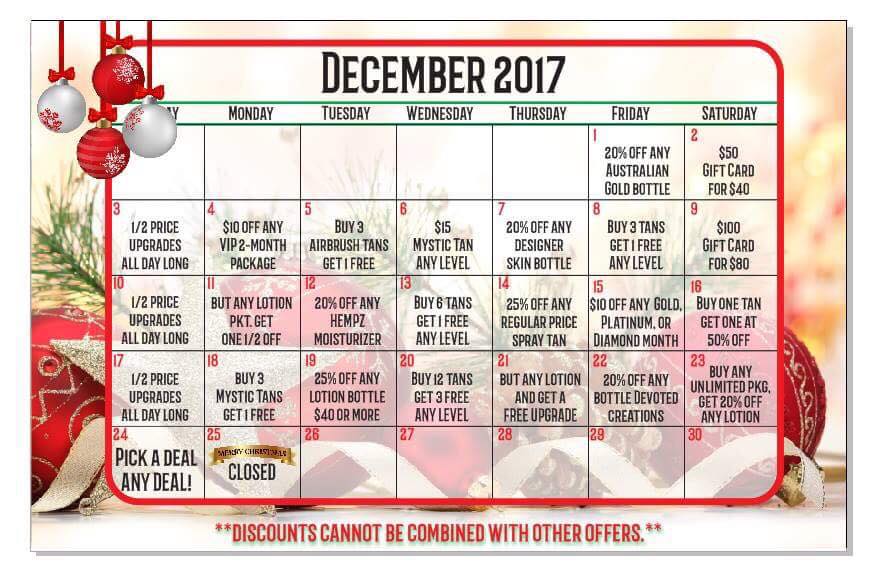 CUSTOM AIRBRUSH TANS
JUST $20 YOUR FIRST TIME ONE OF THE AREAS FIRST SALONS TO OFFER AIRBRUSH SPRAY TANS. OVER 2500 INDIVIDUAL CLIENTS HAVE BEEN DONE BY OUR SAME TECHNICIAN.
BY APPOINTMENT ONLY MON-FRI AFTER 3PM. CALL 508-852-0900 FOR AVAILABILITY.
NO ORANGE COLOR! NO STREAKS! JUST A BRONZE TAN CUSTOMIZED FOR YOUR SKIN TONE IN MINUTES!
**GRATUITY IS ACCEPTED FOR THIS SERVICE**




LIKE US" ON FACEBOOK. SEND US AN INBOX MESSAGE AND RECEIVE A PERSONALIZED 50% OFF COUPON FOR YOUR NEXT WALK IN TAN
*not valid on spray tans*

REFER A FRIEND TO LIKE US ON FACEBOOK. BE SURE THEY MENTION YOUR NAME IN THE MESSAGE. WE WILL SEND YOU EACH A 50% OFF COUPON FOR A WALK IN TAN.
*not valid on spray tans*
*please allow up to 48 hours to receive the coupons*